Tuberculosis, advanced - chest x-rays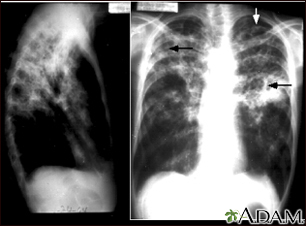 Tuberculosis, advanced - chest x-rays
Tuberculosis is an infectious disease that causes inflammation, the formation of tubercules and other growths within tissue, and can cause tissue death. These chest x-rays show advanced pulmonary tuberculosis. There are multiple light areas (opacities) of varying size that run together (coalesce). Arrows indicate the location of cavities within these light areas.
The x-ray on the left clearly shows that the opacities are located in the upper area of the lungs toward the back. The appearance is typical for chronic pulmonary tuberculosis but may also occur with chronic pulmonary histiocytosis and chronic pulmonary coccidioidomycosis. Pulmonary tuberculosis is making a comeback with new resistant strains that are difficult to treat. Pulmonary tuberculosis is the most common form of the disease, but other organs can be infected.
A.D.A.M. content is best viewed in IE9 or above, Firefox and Google Chrome browser.